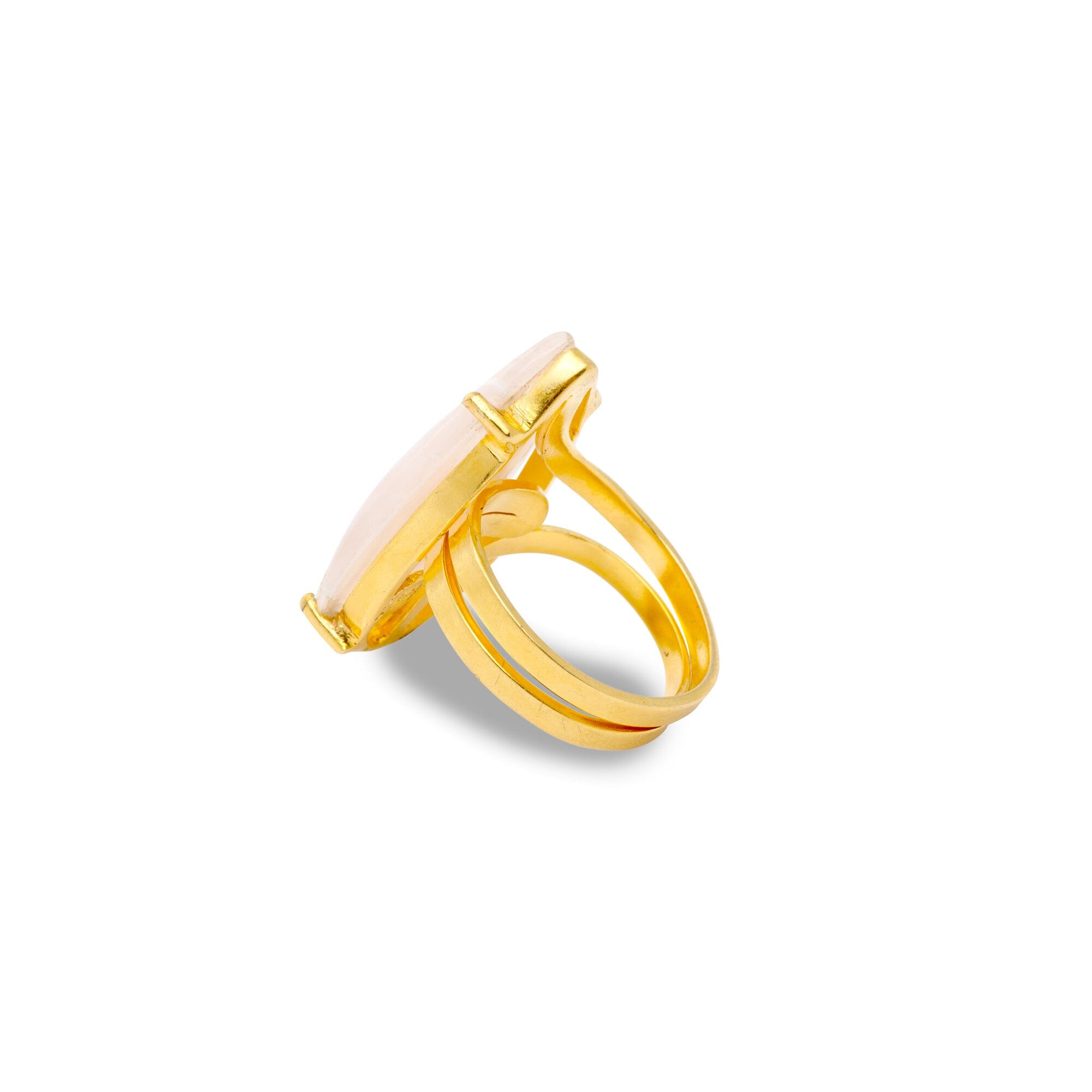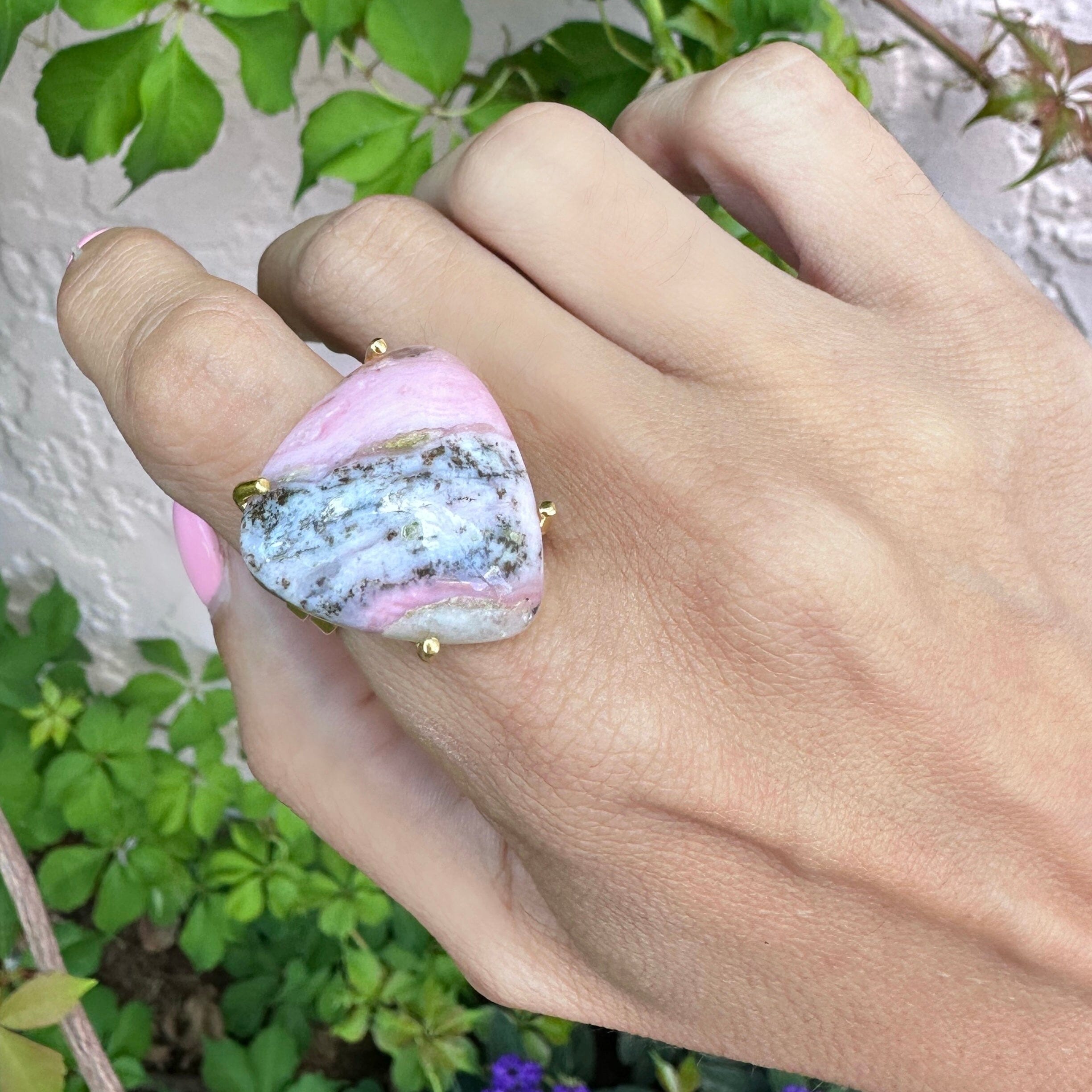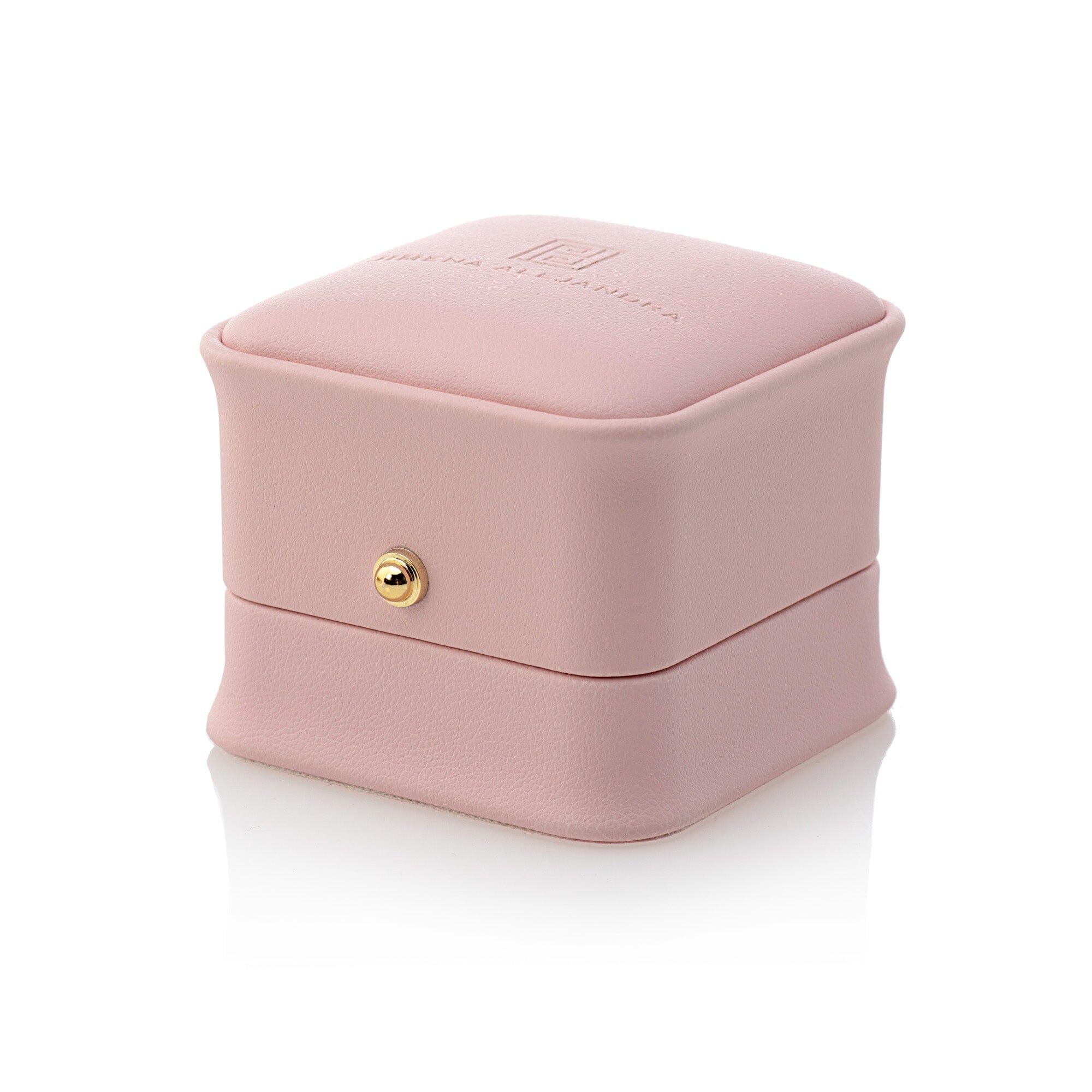 One of A Kind Ring (Peruvian Pink Opal)
Sold Out
or make 4 interest-free payments of $102.25 AUD fortnightly with
More info
This one of a kind natural Peruvian Pink opal fancy shape cabochon ring. The ring is in a prong setting with 18k gold vermeil over sterling silver. Once this one sells, there are no other rings with stone patterns that will ever be the same as this. 
This particular stone was hand selected by Jimena on her recent sourcing trip. Chosen due to the pattern, the range of pink  tones and the presence of interesting spots.  A stand out piece for gemstone lovers, especially those who love pink and opals! 
The specimen this stone was mined exclusively from the mines of the Andes Mountain in Peru from miners who have worked with us for over 7 years. 
This ring is adjustable so one size fits ALL. You may choose to wear it on whichever finger you'd like. 

The ring will come packaged in a luxury leather ring box and the band contains a signature Jimena Alejandra logo badge. 
Properties
Pink Opal is considered a beautiful healing stone. 
It is beneficial for those struggling with emotionally charged issues. This stone can therefore help soothe emotions and ease anxiety. 
This stone is also known to 
open your mind
provide calmness
helps deal with grief and heartbreak 
Materials
The ring has been created using sterling silver as the base and then gold vermeil plating. 

Gold vermeil is not the same as gold plating. Jewellery made with gold vermeil has sterling silver as the base and a very thick layer of gold plating that is 2.5 microns thick. It is superior to gold plating in terms of longevity, quality and value. 
After solid gold, vermeil is the highest quality of gold tone jewellery that you can buy. 
If you're looking for a sustainable option for jewellery but cannot afford solid gold, gold vermeil is the next best choice. 

Care 
To keep this piece pristine, you need to take good care of it. To extend the lifespan of this piece it is recommended you keep your piece as dry as possible.  There are no metals that are truly considered 100% waterproof (not even solid gold). As a result, please remove your piece before you go to the beach, pool or gym. 


This ring is hypoallergenic. It is nickel free and suitable for all skin types.
 Custom 
If you'd like a similar stone sourced, please email info@jimenaalejandra.com so we can help you source other variations of this stone. 
 [widgetic-faq-accordion id=597e9ed7ecb2a1cf1b8b456a autoscale=on width=569 height=510 resize=allow-scale-down]