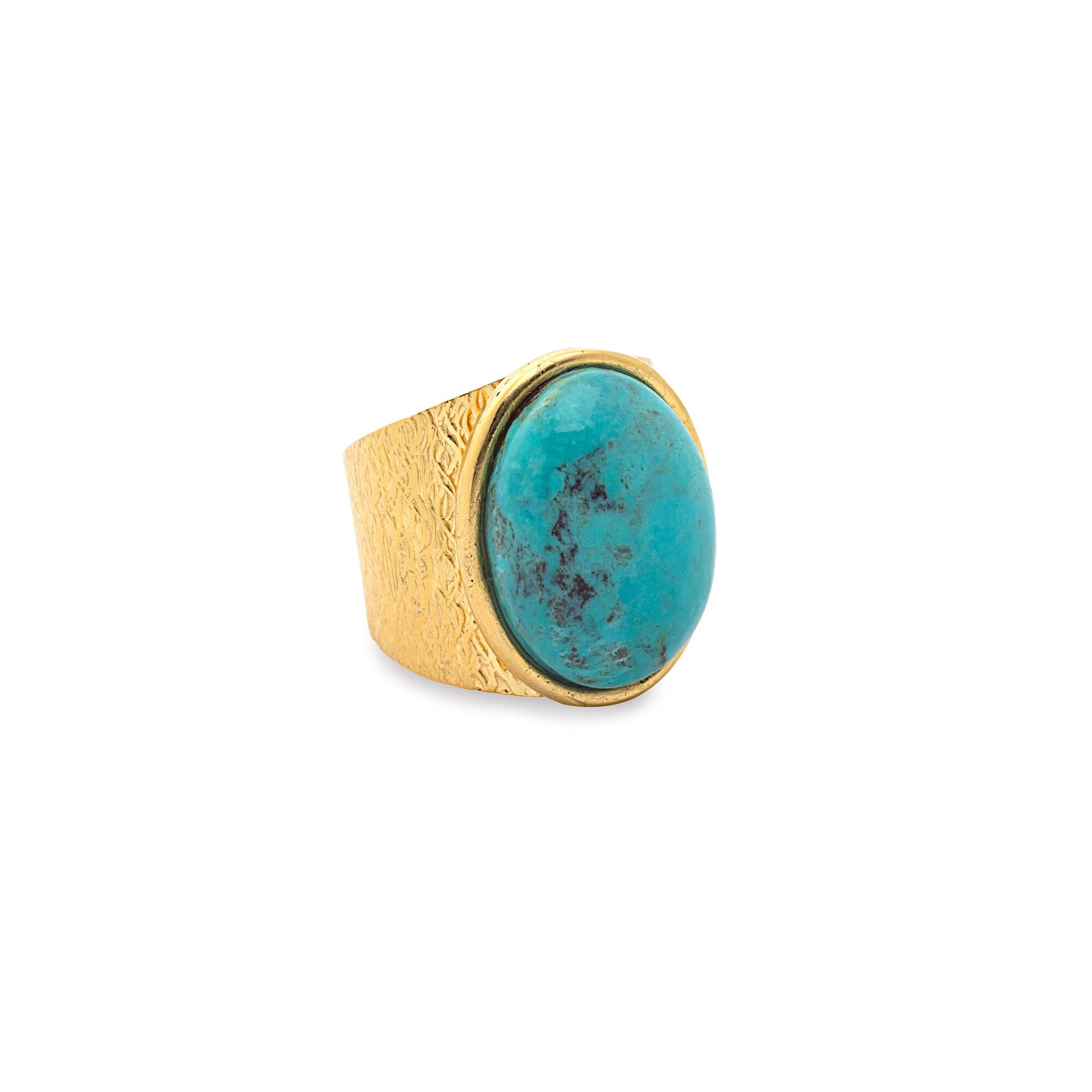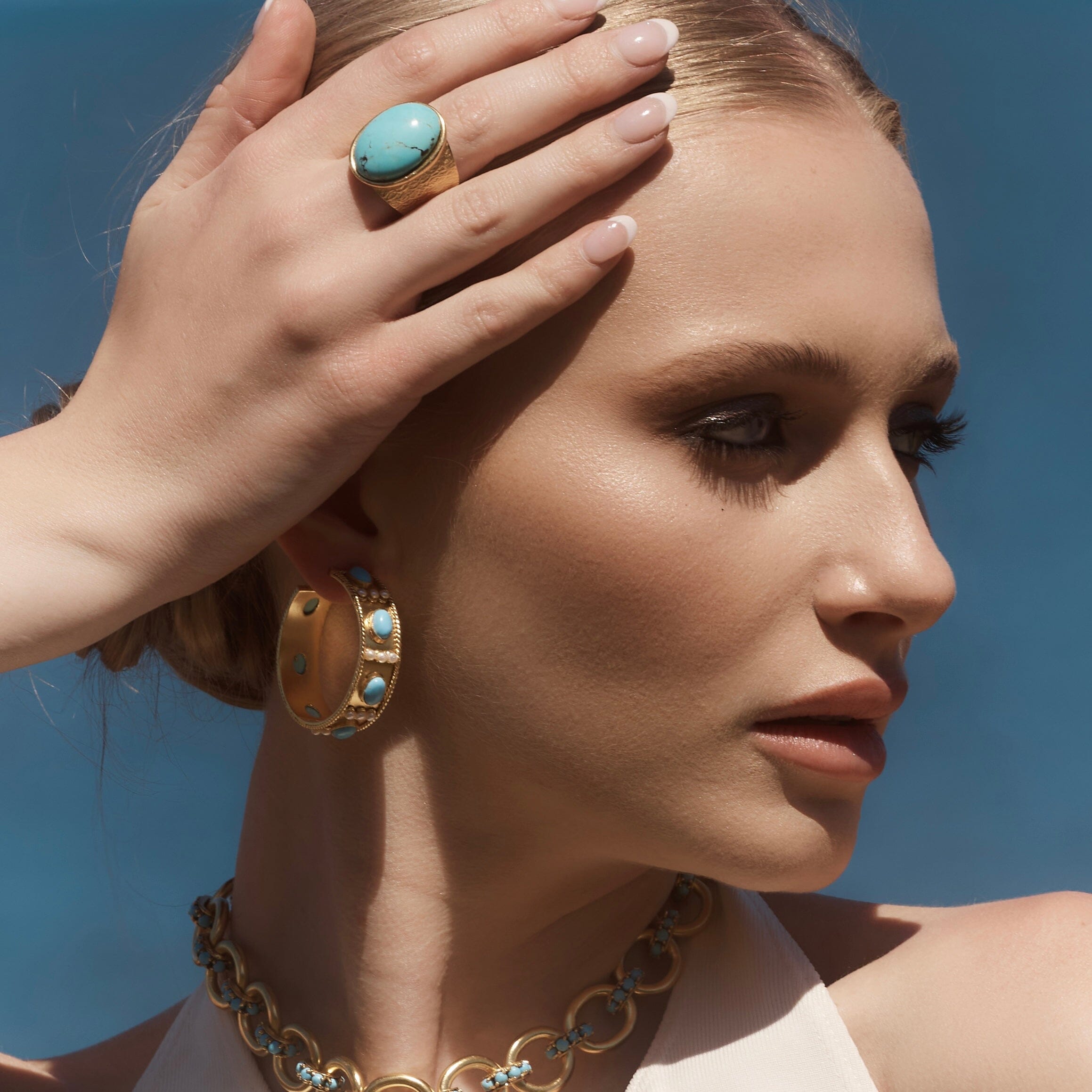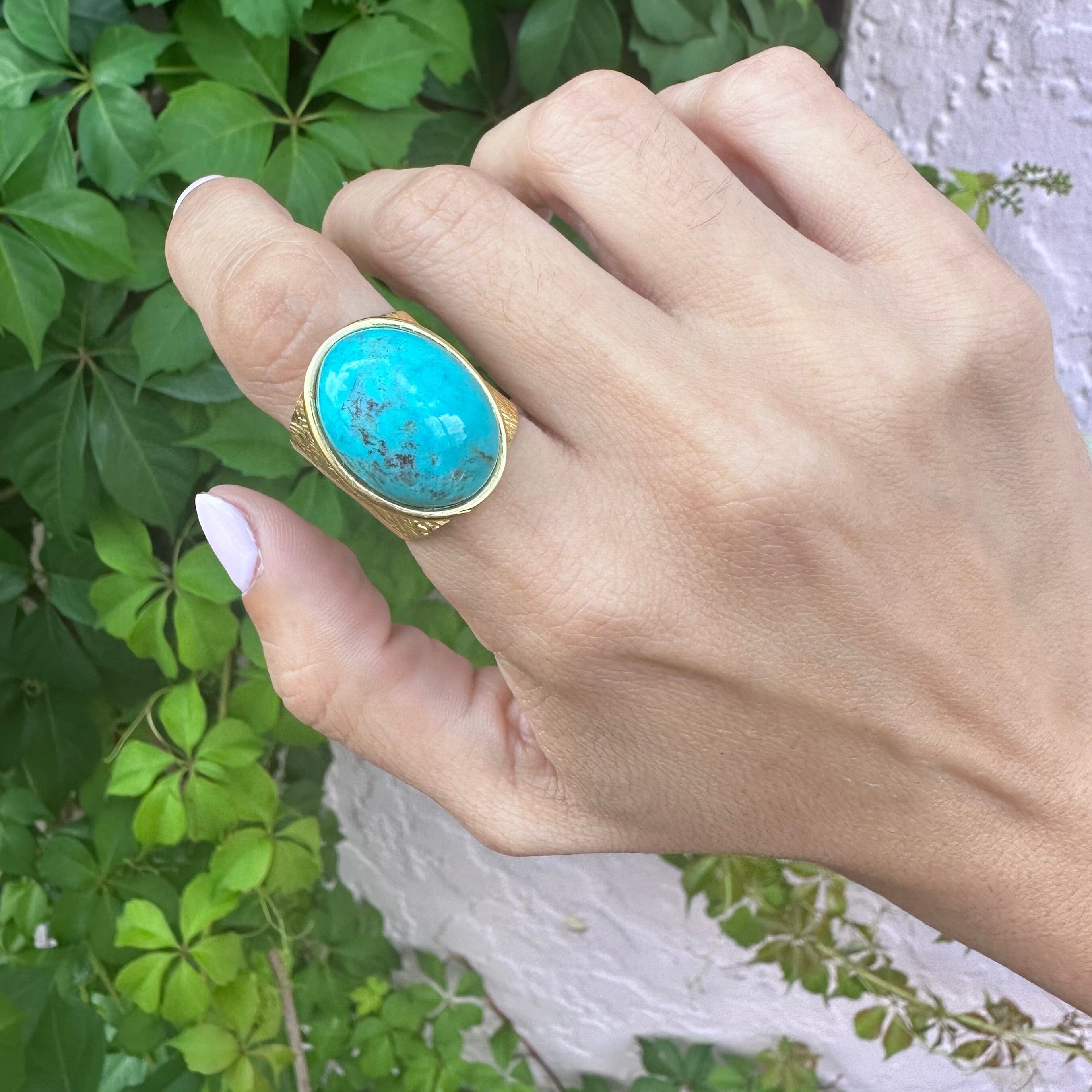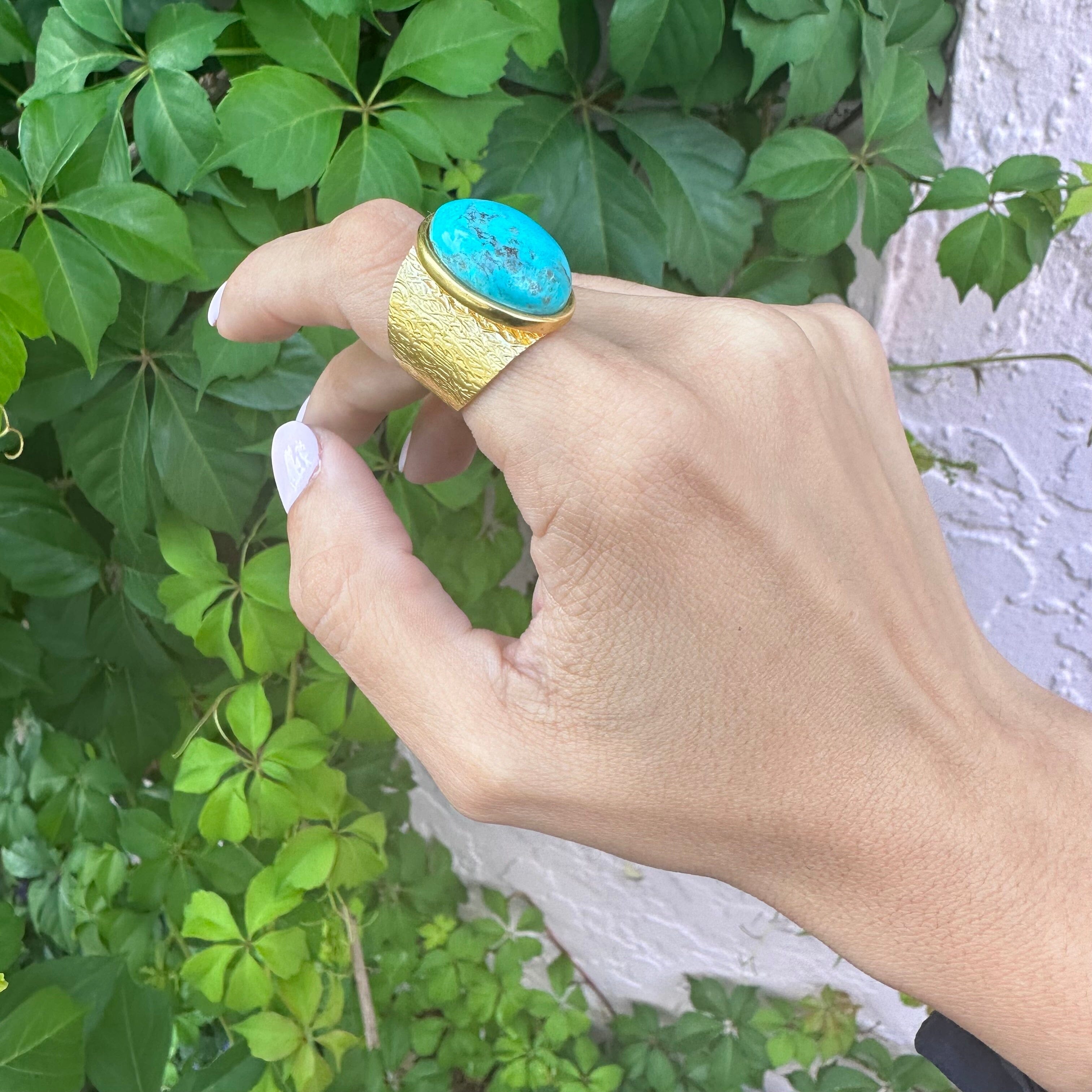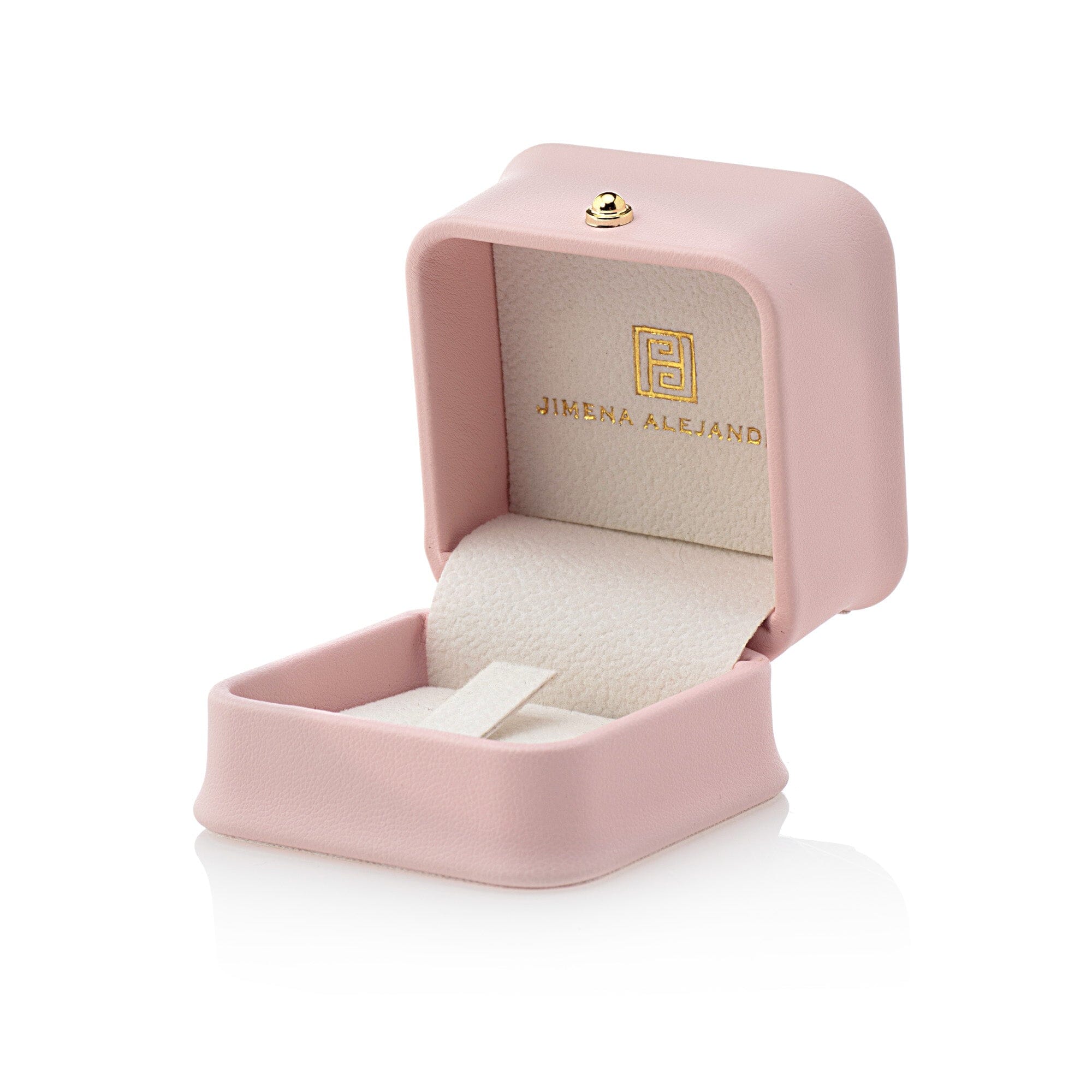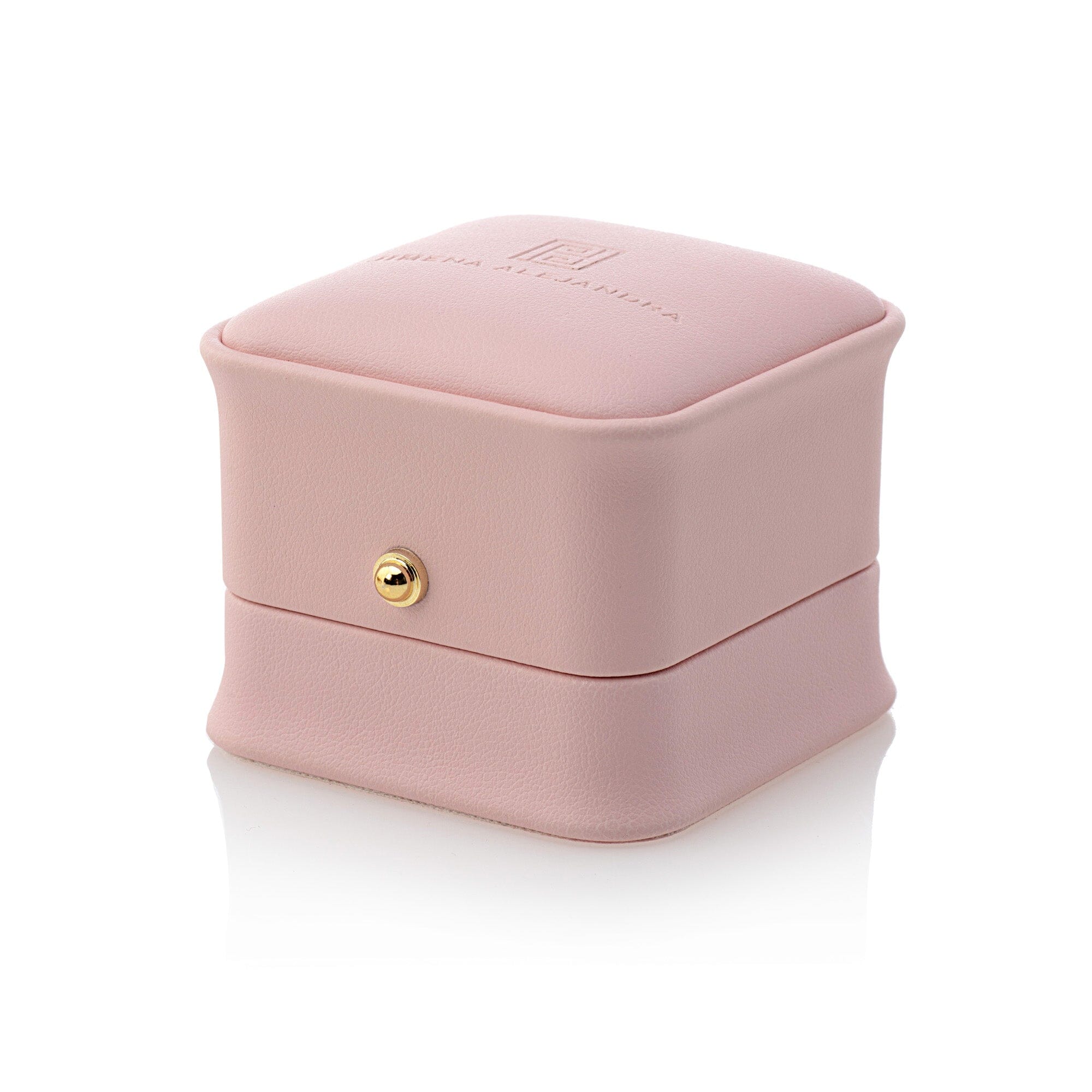 One Of A Kind Ring (Arizona Turquoise)
$399.00 AUD
or make 4 interest-free payments of $99.75 AUD fortnightly with
More info
This one of a kind natural Arizona Turquoise oval cabochon ring is set with a hammered 18k gold vermeil over sterling silver adjustable band. Once this one sells, there are no other rings with the same stone patterns or the colour that you see in this ring.
This particular stone was hand selected by Jimena on her recent sourcing trip. This stone specimen has been sourced from Tucson, Arizona in The United States.  This type of turquoise stone is the most sought after semi precious stones on earth. 
The colours found in this piece along with the unique line patterns make it very special. 
This ring is adjustable so one size fits ALL. Suits the pointer finger the most but can be adjusted for other fingers too. 

The ring will come packaged in a luxury leather ring box and the band contains a signature Jimena Alejandra logo badge. 
Properties
This is a stone that enhances communication and expression. It can help you to become more open to love and forgiveness. 
Other qualities include: 
calming, grounding energy

helps you connect to the spiritual world. 
can strengthen your connection to intuition, and it is also helpful for protection and purification. 
Materials
The ring has been created using sterling silver as the base and then gold vermeil plating. 

Gold vermeil is not the same as gold plating. Jewellery made with gold vermeil has sterling silver as the base and a very thick layer of gold plating that is 2.5 microns thick. It is superior to gold plating in terms of longevity, quality and value. 
After solid gold, vermeil is the highest quality of gold tone jewellery that you can buy. 
If you're looking for a sustainable option for jewellery but cannot afford sold gold, gold vermeil is the next best choice. 

Care 
To keep this piece pristine, you need to take good care of it. To extend the lifespan of this piece it is recommended you keep your piece as dry as possible.  There are no metals that are truly considered 100% waterproof (not even solid gold). As a result, please remove your piece before you go to the beach, pool or gym. 


This ring is hypoallergenic. It is nickel free and suitable for all skin types.
 Custom 
If you'd like a similar stone sourced, please email info@jimenaalejandra.com so we can help you source other variations of this stone.